The Saigon Institute of Information Technology (SaigonTech) inaugurated its main campus in Ho Chi Minh City on May 6.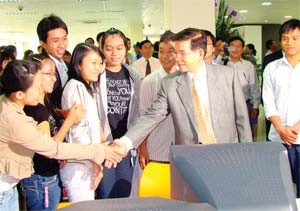 President Nguyen Minh Triet (2nd,R)meets SaigonTech students at its main campus on May 6 (Photo: SGGP)
The campus also serves as the Vietnam branch of the Houston Community College in the US.
VIPs at the opening ceremony included Vietnamese President Nguyen Minh Triet, HCM City Party chief Le Thanh Hai, and US Ambassador to Vietnam Michael Michalak.
Located in the Quang Trung Software Park in District 12, the 14-story building has 89 classrooms, 26 labs, and a helipad on its roof, and cost US$20 million to build.
Given with the main campus operational, SaigonTech now can train about 5,000 students in IT, business administration, computer science, and accounting at a time.
It plans to build a dormitory in June to accommodate around 1,000 students.
Speaking at the inauguration, President Triet said he hoped SaigonTech students would be equipped with the knowledge and skills required by businesses and the society.
City Party chief Hai said: "SaigonTech is a model of training partnership between a private school and Houston Community College."
The school should develop the partnership efficiently and ensure the quality of curriculum and teaching to train students well, he added.