The Japan Special Fund, through the Asian Development Bank, will provide Viet Nam with US$1 million in technical assistance to finance a feasibility study that will pave the way for an ADB loan to build two universities, the bank announced August 25.
The bank said the loan is set for next year for building two model research universities that will focus on science and technology in Ha Noi and Da Nang. The Vietnamese Government will provide an additional $200,000, according to ADB.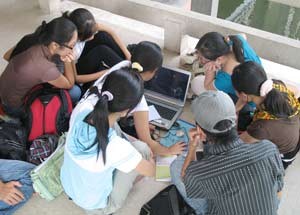 A study group by Ho Chi Minh City students (Photo: Tuong Thuy)
The technical assistance will help design a framework for future research universities in line with the Government's aim of making higher education more innovative, internationally competitive, and relevant to labor market needs.
Mr. Yasushi Hirosato, a senior education specialist for ADB's Southeast Asia Department, said in a statement, "These new model research universities are expected to become core scientific centers and will play a critical role in research and teaching, leading to enhanced research and development capacity for the country."
The universities will be located in, or near, high-tech parks or industrial zones, the bank said.
The technical assistance project, which will run for eight months, will be designed in collaboration with the Ministry of Education and Training, research universities, the private sector, and development partners including the World Bank. The WB will support two model research universities in Ho Chi Minh City and Can Tho, said ADB.
"The project will consider measures such as affirmative admission criteria, the level of student tuition fees, and student financial assistance schemes that favor students from poor households," Mr. Hirosato said.