The Japanese cruise ship Fuji Maru with 480 Japanese students aboard arrived in Ho Chi Minh City Sunday for the first leg of a training course spanning the waters along Viet Nam, Singapore and China.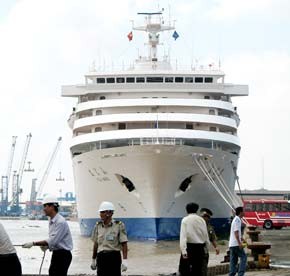 Fuji Maru docked at Saigon Port from Sunday to Tuesday (Photo: Khanh Van)
The students from 33 universities and colleges in Japan's Hyogo Province are participating in a "Semester at Sea" program that started Monday and will end on September 7.
During their two-day visit to HCMC, many of them stayed at homes of Vietnamese families. Eighteen Vietnamese students were also invited to take part in the training course. All participants attended seminars, and listening to lectures by Japanese and Vietnamese professors on history, culture, language and socio-economic development in Viet Nam.
The Japanese students visited historical sites, museums and tourist attractions in the city. They also took a tour to the Mekong Delta, and learned how to cook Vietnamese dishes.
The "Semester at Sea" program of Japanese province Hyogo aims to give Japanese students an opportunity to visit countries in the Asia-Pacific region while taking training courses and sharing life with other students aboard the cruise ship. Japan's Hyogo Province and HCMC had earlier signed a memorandum of understanding to improve their cooperation in culture and education, and economic development in general.
This year, Viet Nam and Japan celebrate the 35th anniversary of their diplomatic ties.