Some 480 students from central Japan's Hyogo province have landed at the Saigon port, Ho Chi Minh City , their first stopover during a three-week at-sea training tour of Vietnam, Singapore and China .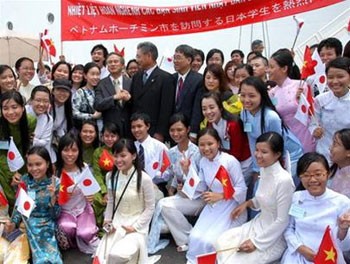 Ho Chi Minh City's students welcome friends from Japan (Photo: Tuoi Tre Newspaper)
During their journey starting in Osaka on August 18, the students attended a number of seminars and lectures on Vietnam 's history, culture, language and socio-economic development.
Many of them showed deep interest in Vietnam's contemporary history with revolutions for national liberation in the 20th century.
Eighteen Vietnamese students invited for the training course organised a cultural exchange, which included dramatic plays introducing Vietnamese history and talks of the country's culture.
During their two-day stay in HCM City on August 24-25, 100 out of the Japanese students are scheduled to visit historical relics sites mentioned in the lectures like the Cu Chi tunnel, the Museum of War Remnants and the Thong Nhat (Reunification) Palace.
Other Japanese students are to tour famous landscape of the city and neighbouring localities.
On the occasion, authorities of Hyogo and HCM City signed a memorandum of understanding to boost the bilateral cooperation in various fields. The MoU was seen a preparatory step towards a long-term comprehensive relations, particularly in culture and economy, in the future.
In September, HCM City will host a performance of 50 Japanese young mandolinists from the Meiji Conservatoire together with Vietnamese players on traditional instruments.