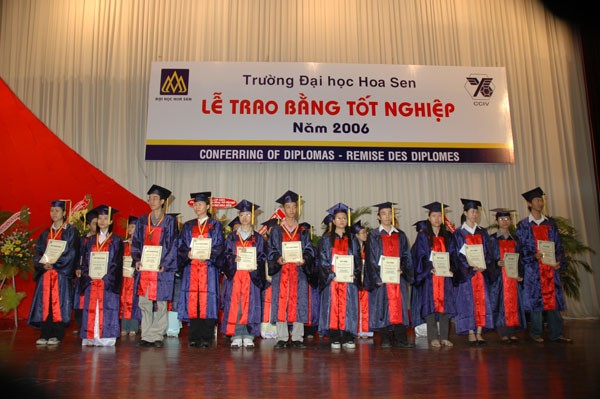 New graduates from Hoa Sen University
The Hoa Sen University on Dec. 16 signed a cooperation agreement in education, training and research with the Suffolk University from the Boston State of the US.
Vice President Marguerite Dennis of the Suffolk University said that her university has relationship with over 50 international partners and the Hoa Sen University is its first partner in Viet Nam.
Under the agreement, Hoa Sen students will be able to study at the Suffolk University from six months to one year and its teachers will be given chances to share their teaching methodology with Suffolk colleagues.
The agreement will also facilitate the exchange of experiences between the two universities' students and teachers.
Rector Bui Tran Phuong of the Hoa Sen University said that her university has established relations with the United Business Institutes of Belgium, the Southern Toulon-Var University and the Trade and Industry School of France, the National Institute of Information Technology of India and the Lake Washington Technical College of the US.