The Ministry of Education and Training will close down distance and in-service training education centers with substandard facilities, said Mr. Phan Manh Tien, deputy head of the ministry's department of university education.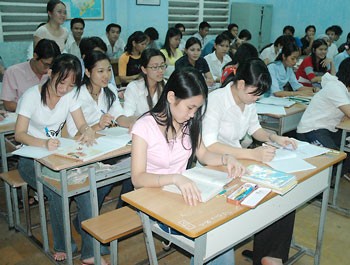 10-grade students of the Binh Thanh District's continuing education center study in an evening class at Phu Dong Primary School in HCM City. (Photo;SGGP)
The centers, mostly located at district continuing education centers, are supposed provide a link to training centers, universities, vocational training schools and technical secondary schools.
But many have such poor facilities, the quality of teaching and learning cannot be assured.
According to the ministry, the centers are used by more than 200,000 distance students and 500,000 in-service students, mostly studying economics.
A MoET report said that many universities had held tens of education-linking programs in provinces and the National Economics University set the highest record with 113 education-linking programs.
More than 30 local education and training centers and private schools in Thanh Hoa Province have cooperated with universities and colleges throughout the country to open distance and in-service courses. However, several schools have not yet received funding from local authorities or appropriate legal recognition.
Bach Nghe training and vocational school has cooperated with universities and secondary technical schools to hold 10 classes. But the students have to study in hired classrooms because of the school's substandard equipment.
Inspection of the local distance and in-service training education centers will be one of the ministry's major priorities in the 2008-2009 school year, said Dr. Pham Ngoc Truc, Chief Inspector of the Ministry of Education and Training.
The public has called on the ministry to check education linking centers' legal status, teaching staff and facilities.
The centers which do not meet national standards for teaching and learning will be forced to close or reduce its enrolment target for each year, said Mr. Tien.
Next year, university and college entrance examinations of in-service training program will be held on 15th to 18th days of March, April, October and November. Schools have to report their enrolment targets, subjects and venues for the exams to the ministry.