Since opening in Ho Chi Minh City a month ago, a children's library named after the Vietnamese hero Ly Tu Trong has served many hundreds of children.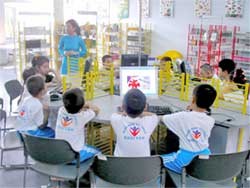 Pre-school schildren learn how to operate computer at the library
The 200-square-meter library is stocked with 7,500 Vietnamese and foreign-language books provided by various consulates, American business people and the Asia Foundation, and has ten computers with internet connection.
Cross-cultural programs to introduce the traditional dances and folk games of other lands will be held there twice a month.
Starting this coming Sunday, the Ho Chi Minh General Sciences University Library and the Consulate General of Thailand will present a program of Thai culture for the benefit of the library's young visitors. For more information, ring Ms. Mai Loan on 822 5055 or 829 5632. 
To get a library card, parents need to bring in two photos of their child and the child's student card or their own identity cards plus VND20, 000 for the joining fee. The card is valid for one year.
Children classified as disadvantaged like orphans and other shelter residents are admitted free and can enjoy all the library's services gratis.
For the time being, Ly Tu Trong Library is open from 7.30 to 11.30 am on Tuesday and Thursday mornings, from 1 to 5 pm on Wednesday and Friday afternoons, and from 9 am to 5 pm on Saturdays and Sundays.