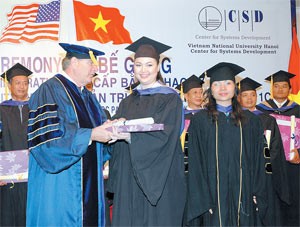 Professor John Finn of Pacific Western University awards the MBA degree to graduates on Sunday
Pacific Western University and the Center for System Development of the Viet Nam National University in Ha Noi have graduated 39 more students who completed their joint MBA program.
The degree presentation in Ho Chi Minh City on Sunday was attended by professors and lecturers of the two institutions and nearly a hundred of the center's students.
This latest crop brings the number of MBA graduates from the center to 300.
In their 18 months of training, the students were exposed to a variety of subjects, including economics, organizational behavior, marketing, accounting, finance, strategy, operations management, international business, information technology management, supply chain management, and government policy.