RMIT International University Vietnam held a meeting on August 16 at the National Library of Viet Nam at 31 Trang Thi, Ha Noi to introduce the publication and launch of the Dewey Decimal Classification (DDC) system in the Vietnamese language.
Representative of OCLC gives DDC guidance book to the Director of the National Library of Viet Nam( Photo:T,Linh)

DDC is the first official and complete Vietnamese version of the Dewey decimal classification scheme, which is in use as an internationally accepted standard for the classification and organisation of library collections around the world.

The DDC project seeks to encourage the development of national standards and greater resource sharing amongst Vietnamese libraries.

The project is one of a number of projects of national importance, funded by Atlantic Philanthropies, including the translation and publication of the Vietnamese MARC 21 standard and the future translation of the Anglo-American Cataloguing Rules.

It is translated and published by the National Library of Viet Nam under licence to the copyright-holder OCLC (Online Computer Library Center, Inc.).

The translation and publication was made possible through a grant from the Atlantic Philanthropies, an international philanthropic organisation.
The project was managed by RMIT International University Vietnam in collaboration with the National Library. 
The Director of the National Library of Vietnam, Mr Pham The Khang, said "We are delighted that the official translation of Dewey has been established in Viet Nam. This is the culmination of a long - cherished ambition of the National Library to improve the level of classification in Vietnamese libraries."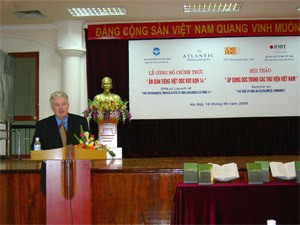 Mr. Michael Mann speaks at the meeting  ( Photo:T,Linh)
The President of RMIT Vietnam, Mr Michael Mann, said; "RMIT Viet Nam is proud to be associated with the DDC project and the development of standards for the management of information in Vietnam. These projects have the potential to benefit every library in Vietnam".
2000 copies of the Vietnamese DDC were distributed free to over academic, public, special libraries and library schools to promote its adoption nationally.
In addition, a training program in the use of DDC will commence in October with the commencement of courses in Ho Chi Minh City and Ha Noi, followed by further training workshops in regional centers.