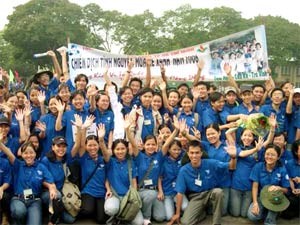 VNU students at a launching ceremony of a voluntary campaign in Ho Chi Minh City in 2006
The Viet Nam National University in Ho Chi Minh City held a meeting yesterday to review the progress of the teaching quality project over the past five years and outline an operational direction for the next five years. Upgrading the institution to international standard was high on the agenda.
Deputy Director Vu Minh Giang of the National University in Ha Noi suggested the government reconsider the upgrade project and make VNU-HCMC "either an international school in Viet Nam or an international school of Viet Nam."
If the former is selected, Viet Nam can imitate any qualified international school in the world, Mr. Giang said. If the latter, Viet Nam should modify the plans for an "international standardized institution" based on the local education system and the needs of a growing nation.
Mr. Giang also raised the three "3R's" (no, not "reading, 'riting and 'rithmetic" but "review, research, reform") and described these as essential if Viet Nam wanted to have a world-class university.
Over the past five years, the number of undergraduates at VNU-HCMC has increased by 50 percent, while the number of post-graduates has gone up five-fold, the latter in response to the greater needs of industry in recent times.
But not everything in the five-year plan has been accomplished, according to Vice Rector Phan Thanh Binh, primarily enticing foreign students to enroll and upgrading half of the university's faculties.
The chief culprits, the main obstacles to progress in this respect, are the backward curricula and obsolete teaching methods, Mr. Binh added.