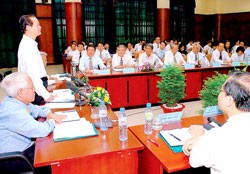 PM Nguyen Tan Dung (standing) speaks at the meeting with leaders of the HCMC National University.
Prime Minster Nguyen Tan Dung and other government officials met with the management of the National University in Ho Chi Minh on Thursday to iron out the difficulties hindering the university's integration into the international university system.
Professor Phan Thanh Binh asked the Prime Minister to give his university autonomy at the highest level so that it could set its own tuition fees and proceed with site clearance for the university's physical expansion.
He also asked PM Dung to allow the university's software technology zone to operate as a commercial science and technology enterprise.
Deputy Minister of Education and Training Banh Tien Long said his ministry was well aware and appreciative of the university's achievements and was drafting regulations to give it greater autonomy. Once granted, he said, this autonomy would let the university operate more effectively and efficiently.
The PM stressed that education and training were of vital concern to the government and the state as they played an important role in the country's development. And so, he said, the government would do whatever was needed for the university to grow.
As one benefit of increased autonomy, he said, the university's director would be able to appoint deputy directors, set enrolment targets and carry out construction works under what is termed "Category A".
PM Dung approved the university's request to set tuition fees without outside interference, but only on a pilot basis.
He summed up by saying that, with such incentives, his hope was that the National University in Ho Minh City would "walk abreast" with the National University in Ha Noi so that Viet Nam could have two leading universities offering a prestigious education of international standard.
Since its founding in 2001 on 645 hectares of land, the National University in Ho Chi Minh City has constantly expanded its academic programs and teaching facilities.
These days it is like a small city with lecture halls, administration blocks, libraries, 15 student dorms, a nanotech laboratory and the afore-mentioned software industrial zone.
The university's lecturers include 190 professors and associate professors, 470 PhDs and 795 masters degree holders.