Duong Trung Quoc, well-known historian and National Assembly Deputy, said that in response to public concern, new text books should now mention the services and contributions rendered by the late General Vo Nguyen Giap.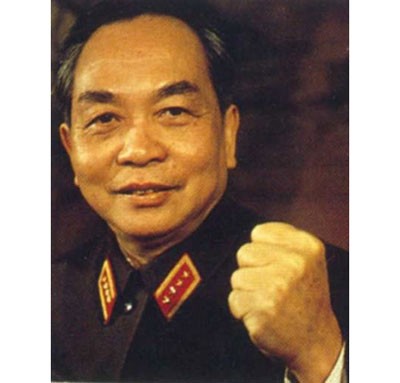 General Vo Nguyen Giap
Quoc said Vietnamese history has never mentioned the merits of any individual and many talented generals have not been sculptured in statue. He thinks that the country should change attitude and mention individuals who have played an important role in history.
Quoc added that Vietnam is on the way to adopting an educational reform scheme which is also a good opportunity for textbook authors and publishers to incorporate new content.
After the death of General Vo Nguyen Giap, topping the list of suggestions is the proposal to have a Vo Nguyen Giap Memorial House and Museum at 30 Hoang Dieu Street in Hanoi which was the revered General's private house.
Historian Quoc said the National Assembly has proposed to clear the house and will provide another house to the General's family, but this suggestion has been vetoed by veterans of the Veteran Association of Vietnam and the History Association.
Currently, the country has two private museums for late Ho Chi Minh and Ton Duc Thang.
In Quoc's own opinion, the house at 30 Hoang Dieu Street is not a museum but is a place where General Vo Nguyen Giap lived for years and a place where he met army commanders, state leaders and the public during his lifetime. The  house is a historical site as the General gathered here many people for the country's fight for independence.