An innovative approach at two nursery teachers in poor towns in the highland province of Kon Tum, have helped turned their schools into homes away from home for local ethnic minorities.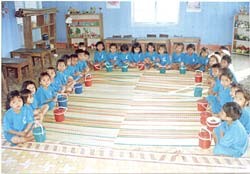 Lunchtime at Sa Binh Nursery School. (Photo: SGGP)
Ethnics at Sa Binh Commune have been able to concentrate on their farming since October last year as their kids were taken care of from morning to evening at Sa Binh nursery school.
Pupils, who live far from the school, were not studying when they were hungry as they retuned or stayed at home.
Efforts to encourage children to stay at school when their parents are at work have seen teachers provide each pupil with a lunchbox.
"Students can now have lunch and take a nap at the school. Their Vietnamese has improved since they began spending more time with us at school," a teacher, Nguyen Thi Bich Ngoc, said.
The school's support gained credit from the students' parents. "I'm so happy. Now I have more time for my corn field since my Y Lieng stays most of the day at school," A Chang, an ethnic minority living at Binh Loong village in the Sa Binh commune, said.
Sa Binh Nursery School closes at noon every Friday for a weekly meeting between teachers, but some parents have even asked the school to allow their children to stay until evening that day, too.
Unlike Sa Binh, people in the town of Ho Moong are too poor to afford lunch for their children everyday. Therefore there were just a few children coming to Son Ca, the only nursery school in town.
In an attempt to help children from poor families, teachers came up with an idea that parents can exchange their food from home – such as vegetables, fish or eggs from their garden – for a 'food stamp,' which can be exchanged for lunch at school.
"We still provide lunch for students, whose families have nothing to exchange," said Vo Thi Thuy, a teacher of Son Ca's 3-year-old class. "Those families will pay us back at the crop session."
A Ven said instead of bringing his 3-year-old son along with him to the corn fields, his son now has a chance to go to school thanks to Son Ca's teachers' support.