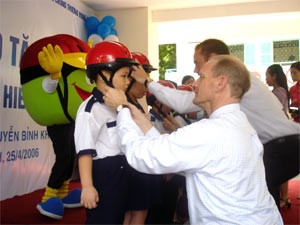 Remember to wear the helmet when moving on the road, said the General Director
As many as 240 helmets have been donated to first grade pupils of Nguyen Binh Khiem primary school by Maersk Vietnam Ltd.
This is the first time Maersk participates in Helmets for Kids program.
This project aims to educate and protect Vietnamese children in a move to enhance their awareness of the importance of helmet use and traffic safety.
"Be safe to school with Maersk' is one of our key corporate responsibility objectives to Vietnamese children in this year," said Mr. Hoowaerts, General Director of Maersk Vietnam Ltd.
Traffic accidents claim over 80 lives a month in Ho Chi Minh City and most of the victims wear no helmets when moving on the road, according to the data obtained by the Ho Chi Minh City Committee for Transport Safety.
The ceremony was held on April 25, 2006 with the attendance of representatives from the Maersk VietNam Ltd, the Asia Injury Prevention Foundation, teachers and pupils in the school.