By the end of June, the Government's credit program for poor students had provided over VND5.29 trillion (over US$320 million) to some 754,000 students, according to a loan manager.
Speaking at an on-line conference on the program held on August 15, Deputy General Director of the Bank for Social Policies Nguyen Van Ly said the program has received the applause and support from the community after one year's implementation.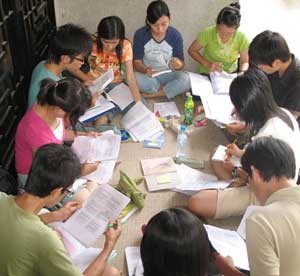 Students study in groups at a library in Ho Chi Minh City (Photo: Tuong Thuy)
By providing loans of VND4 million per academic term for each beneficiary, the program helped many poor students advance their study despite financial difficulties.
However, a survey of 103 universities, colleges and vocational training high schools showed that the credits could meet essential and study needs of only half of recipients.
Representatives from several localities suggested to raise the loans to VND6 million per term per one in the situation of higher consumption prices.
Concluding the conference, Deputy Prime Minister and Education and Training Minister Nguyen Thien Nhan suggested several solutions to make the program more effective.
He asked the authorized agencies and localities to re-check the lending criteria and objects to ensure the loans come to needy people.
He also said that the Government would re-consider the credit loan level and give an official decision on the issue on August 20.
The on-line conference to review one year's implementation of the program connected four cities of Hanoi, Can Tho, Da Nang and Ho Chi Minh City. It drew the participation of officials from relevant ministries, agencies, and all 63 provinces and cities nationwide.