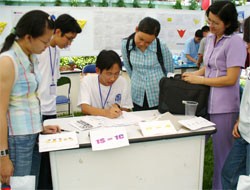 Pupils are searching educational news (Photo:VH)
The Ho Chi Minh City (HCMC) Department of Education and Training has submitted to the HCMC People's Committee a project of education reform in the 2006-2007 school year.

Accordingly, as many as 93 semi state-owned schools in Ho Chi Minh City, including 48 pre-schools, 5 primary schools, 24 junior high schools and 16 senior high schools, will be changed into state schools with their autonomy in operation and finance.
Those schools still keep the present tuitions while waiting for an official announcement of new school fees from the Government.
The 16 senior high schools, currently under semi state-owned status, will pay for either full or partial regular expenditure once converted into self-financed state-owned status.
There would be no entrance exams for 10th form students in semi state-owned classes at public high schools in the 2007-2008 school year, said the City's Department of Education.
Public schools will no longer have semi state-owned classes and will operate two learning sessions a day from 2010.