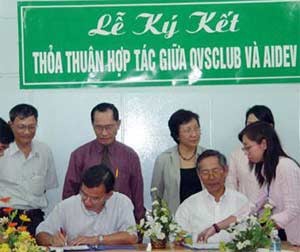 Mr. Do Dang Giu (L) and Mr. Tran Ha Anh, Head of the OVS Club's provisional steering board, sign the agreement.
AideV, an organization of overseas Vietnamese living in France, will help provide training for Vietnamese experts and engineers at international schools.

The Ho Chi Minh City-based Overseas Vietnamese Science & Technology Club (OVSCLUB) yesterday signed an agreement to this effect with the International Association for Educational Development in Viet Nam (AideV).

Under the agreement, the AideV will send qualified experts to help implement projects at training centers, agencies and factories in Ho Chi Minh City.

The agreement, which started from October 2006, will be implemented in three years.
Addressing the signing ceremony, Chairman of the OVSCLUB Nguyen Chon Trung said the agreement will create an opportunity for overseas Vietnamese intellectuals to have more contribution to their homeland, especially in improving the quality of vocational teaching and learning. 
Established in 1999 by a group of overseas Vietnamese living in France, the AideV is an international association that has been much supporting the educational system of Viet Nam.
Over the past year, the organization has pilot-run the cooperative program in the southern province of Vinh Long. Besides, the AideV has also built and commissioned a Euro 3,500 bridge in the southernmost province of Ca Mau.