The central province of Quang Nam in coordination with the Human Resource Institute of Viet Nam (HRI) has begun a pilot program to teach the Japanese language at primary and junior level high schools.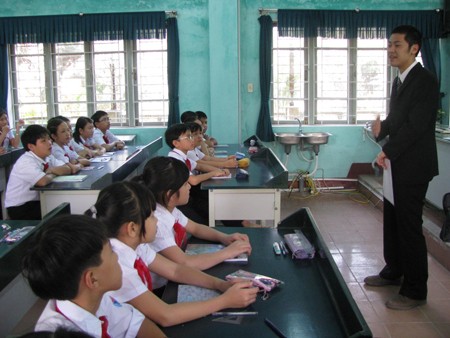 Teacher Nakamura in his Japanese class at Kim Dong junior high school. (Photo:Dan tri)
The lessons are being taught to third graders in the Luong The Vinh primary school and to sixth graders at the Kim Dong junior high school in Hoi An.
The program is part of the many activities designed to serve Japanese visitors and investors in Hoi An.
Japanese teachers from HRI are helping students get acquainted with the Japanese language and culture through interactive activities.
Nakamura Kouji, a teacher at Kim Dong and the Luong The Vinh school, said he hoped that Vietnamese students would like the subject and realised it was a way for them to learn more about the country, people and culture of Japan.
Mrs. Tran Song Binh Duong, director of HRI Vietnam, said that the company will continue to teach Japanese in other schools in Hoi An by March. Plans were also afoot for the company to open more Japanese language classes for tourist agencies in Hoi An with an aim to welcome more Japanese visitors in the future.
Established in the 16th century, the ancient city of Hoi An used to be an international commercial hub on the East-West trade route. It was Vietnam's most prosperous trading port under the Nguyen dynasty when ships from Japan, China, Portugal, Spain and the Netherlands docked in Hoi An for trading.
A number of archaeological sites and the existing architectural infrastructure proves that Hoi An was a centre point of the meeting of the great cultures of Vietnam, China and Japan.
The city of Hoi An was designated a UNESCO World Heritage Site in 1999.
Hoi An receives thousands of visitors from Japan each year since its recognition as a World Heritage Site. However, lack of service infrastructure and tour guides cause a lot of inconvenience to both Japanese visitors and investors because of the language gap.