Prime Minister Nguyễn Xuân Phúc has stressed that the desire for learning is always a treasured tradition of the Vietnamese people.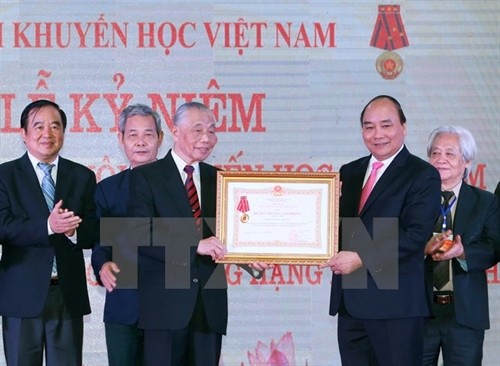 Prime Minister Nguyễn Xuân Phúc (second, right) hands over the Labour Order to VAPE Chairman Nguyễn Mạnh Cầm.— VNA/VNS Photo Thống Nhất
The Prime Minister made the statement at a ceremony celebrating the 20th anniversary of the establishment of the Việt Nam Association for Promoting Education (VAPE) in Hà Nội on Wednesday.

"The Vietnamese have always valued education, even in extreme poverty; people will try their best to send their children to school, in the hope of a brighter future," PM Phúc said.

VAPE has extended its activity to all regions and provinces nationwide, attracting a large number of people to participate in building "learning family", "learning clan", and "learning residential block".

At present, 98 per cent of all communes, wards and towns have established their own community learning centres, contributing to the promotion of education for adults. VAPE has developed a robust Study and Talent Encouragement Fund system and awarded scholarships to millions of disadvantaged children and thousands of academically outstanding students each year.
In addition, VAPE has successfully organised the Việt Nam Talent Award, with the aim of encouraging success stories through studying and creative labour.

The Prime Minister called for close co-operation from all Party and Government committees as well as other social and political organisations to assist the VAPE in the following activities: effective dissemination of information and effective implementation of guidelines and policies of the Party and the State on the radical and comprehensive education and training reforms, and the promotion of lifelong learning movements in families, clans and residential communities.

He also highlighted the need to build a "learning society" to better serve Việt Nam's international integration in the digital era.

VAPE Chairman Nguyễn Mạnh Cầm said VAPE would expand and diversify its activities in the coming years to include new forms of studying: studying at home, studying at workplaces, studying at manufacturers and studying in formal and non-formal education – all with the aim of promoting studying and learning at all levels – from individuals to families to sectors.

"Only through study can Việt Nam become a "smart nation" and Vietnamese society become a "smart society", with a rich national knowledge reservoir comparable with that of other countries, as per the wish of the late President Hồ Chí Minh", Cầm said.

VAPE plans to develop a "learning citizen" model – a citizen who lives and works in a "learning society." All members of the association are expected to give their best effort and become "learning citizens", helping other people to study their whole lives.