Prime Minister Nguyen Tan Dung met with the officials from the Ministry of Education and Training (MoET) and other state agencies in Ha Noi on Wednesday to review the progress being made with the government's plans for improving formal education and to pinpoint the tasks for 2007.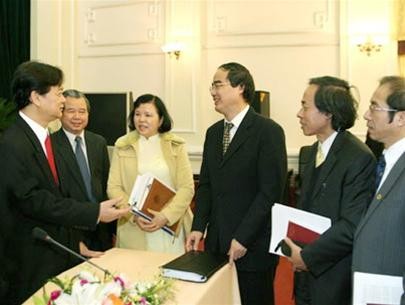 The PM(1,L), Education Minister(4,L) and officials are at the meeting
First to speak was Minister of Education and Training Nguyen Thien Nhan, who outlined five tasks for the next few years.
These include paying more attention to teachers and other educational workers, providing vocational training for market demand, improving the quality of formal schooling, and appealing for society to contribute to education and training.
PM Dung said he agreed in principle with the minister and then changed the subject by asking Mr. Nhan to submit a proposed schedule of tuition fees as early as possible.
The prime minister pointed out that students from disadvantaged families must remain exempt from school fees, scholarships must continue to be available for academic achievers, and average students must be able to borrow to finance their studies.
The government officials at the meeting were all unanimous in their support for the new tuition fee project, which will be submitted to the Vietnamese government in July.
Deputy Finance Minister Do Hoang Anh Tuan said that, to improve the quality of education, tuition fees should be higher so that schools can afford better facilities and pay their lecturers more.
Deputy Minister of Industry Do Huu Hao added that students at universities with many entrants would pay more.
Regarding the university entrance examination for twelfth graders, Education Minister Nguyen Thien Nhan said the exam's content should be relevant to what students have learnt and what is in their curriculum.
PM Dung supported the idea and then mentioned that the government had budgeted 20 per cent of state funds for education, and that this proportion would be increased.
Turning to youth unemployment, the prime minister urged the MoET together with the Ministry of Labor, War Invalids and Social Affairs and the Ho Chi Minh Communist Youth Union to solve the job-seeking problems of young people and develop the vocational training system to meet the needs of industry.
Whether Viet Nam can compete with other countries in the global arena or not depends very much on the quality of its education system, PM Dung said to conclude the meeting.