Prime Minister Nguyen Tan Dung on April 10 sent a dispatch to the Education Minister and chairpersons of municipal and provincial people's committees, asking them to provide adequate support to needy students who drop-out from schools due to financial difficulties.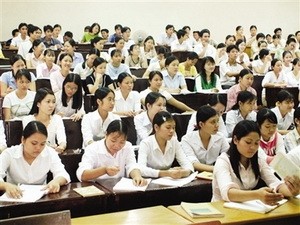 For illustration
As per instructions of the prime minister, the ministry of Education and Training and local authorities will review students from poorer households to provide timely and adequate support, in an attempt to cut school drop-out rates.
The dispatch clearly states that relevant agencies and responsible persons have to ensure that no student drops out of school because of not being able to afford tuition fees.
The ministry has to prepare statistics of the students in each province and university, and if there are any hiccups along the way, the ministry will have to report back to the prime minister.
After four years of implementation of a loan programme for disadvantaged students, over 2.3 million students from 1.8 million poor families have been able to continue their studies. The total programme budget exceeds VND32.5 trillion (US$15,7 million), with one student receiving VND1 million per month.