Nearly six months after a survey on university entrance exam reform, the Ministry of Education and Training (MoET) yesterday received feedback from thousands of parents, educators, education specialists and students.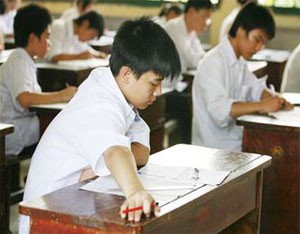 Students take part in a university entrance exam

From 2009, the Ministry of Education and Training is to organize an annual set of national high school exams for all twelfth grade students and those who pass the high school exams will be admitted directly to universities or colleges.
As a result, university and college entrance exams will be abolished.
As to the results of the survey, MoET revealed forty-one percent of 20,000 questioned disagreed with the abolishment of the university/college exams, saying that students passing a high school exam may still not be qualified for studying in a university or college.
Forty percent of those surveyed agreed to the abolishment of entrance exams and ten percent said that in order to organize a 2/1 high school graduation exam that meets national standards, the MoET and schools will need a few more years for preparation.
Only nine percent said that it's not necessary to make any change to university/college exams as they are good enough now.