A 2012 report just published in Britain says that RMIT International University Vietnam tops a global list of the top 15 "international branch campuses" in terms of student numbers in 2010-11.
The "International Branch Campuses Data and Developments" report by the Observatory on Borderless Higher Education, a Britain-based organization that shares information amongst universities around the world, says that RMIT Vietnam has a total of 5,145 students at the time of publication, January this year.
It says 5,000 among them are undergraduates and the 145 others are postgraduates.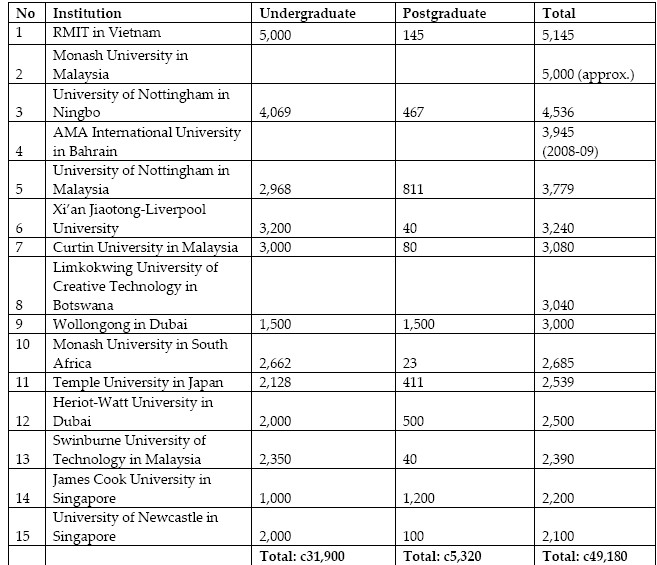 Observatory on Borderless Higher Education: Top 15 international branch campuses in student numbers, 2010-11
The Australian university, an offshoot of the Royal Melbourne Institute of Technology, currently has more than 6,000 students, according to RMIT Vietnam president Professor Merilyn Liddell.
She said, "We're pleased to see that the success of RMIT Vietnam in attracting students is being recognized in such a prestigious international publication."
"It's notable that universities originating from Australia feature very prominently on the top 15 list, even though they make up only six per cent of the total of all universities with international branch campuses – 12 out of 200, in contrast to 78 universities linked to institutions in the United States.
"Australian linked universities have a much higher share of the global education market than the comparative total of all these institutions would suggest. They are relatively few in number, but they are bigger and arguably more successful on average," Professor Liddell said.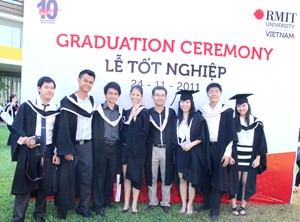 RMIT Vietnam students at a graduation ceremony in Ho Chi Minh City on Nov. 24, 2011 (Photo: T. Thuy)
The latest 2012 report notes a strong shift to the Asian region amongst universities establishing and expanding campuses in locations away from their original home sites.
Australia's Monash University in Malaysia comes second in the top 15, and the UK's Nottingham University in China's Ningbo third. AMA International University in Bahrain (linked to a Philippines-based group) is placed fourth. Nottingham University in Malaysia ranks fifth.
Professor Liddell said another "interesting feature" of the global comparison of campuses was that RMIT Vietnam's tuition fees, while relatively high by Vietnamese standards, were at the lower end of the scale for international university fees across all countries.
She added RMIT Vietnam was providing "an international standard of university education with internationally recognized qualifications, at a cost which compares very favorably with comparable institutions – and certainly at much lower cost than going to Australia to study."
The Observatory on Borderless Higher Education says the report is based primarily on data collected from international branch campuses throughout the world between July and December 2011.
The organization adds that at the end of 2011 there were 200 degree-awarding international branch campuses in operation worldwide, and 37 more will open over the next two years. New trends include a shift in activity to the Far East, intra-regional 'south-to-south' IBCs, niche campuses, and the link between IBCs and the drive by governments to establish 'education hubs' for national economic goals.