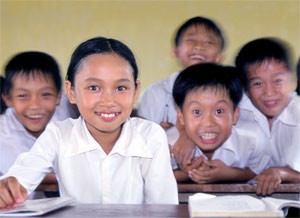 Many Vietnamese pupils will be ready for a new school-year with books given by the SCC. (Photo:TK)
More than 600 elementary pupils in Tay Ninh province will receive textbooks next week thanks to the Saigon Children's Charity's "Schoolbook Appeal" campaign aiming to give books to 2,700 students this year.
A delegation from the SCC and one of the program's major sponsors, the Germany-based international express and logistics service DHL Vietnam, will visit and hand out US$3,300 worth of schoolbooks to local children Wednesday.
According to Ms. Nguyen Thi My Hien, SCC's Scholarship Manager, the program will continue throughout 2006, aiming to distribute books to around 2,700 pupils by the end of the year. Most of the students are from Ho Chi Minh City and surrounding provinces including Tay Ninh, Dong Nai, Binh Phuoc and Tien Giang.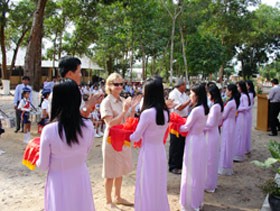 Formal opening of a new classroom in Tay Ninh province in January 2006 (Photo:TK)
Founded in 1992 and registered as a non-governmental organization in England, the USA and Viet Nam, the SCC aims to help educate poor, disabled and vulnerable children by building schools, providing scholarships, running vocational training classes and arranging jobs for pupils.
Apart from the Schoolbook Appeal, the SCC has launched Children Promise 2006 to raise money from companies and their employees in Ho Chi Minh City to pay for the charity's educational programs and local charity initiatives unable to conduct their own fund-raising. All the money raised will be spent directly on schooling materials for poor children through SCC's projects in the coming school year.
Related links: