School fees and other reasonable expenditure that parents have to pay will increase, but not exceed six percent of their average income, said the education minister, Nguyen Thien Nhan, May 13.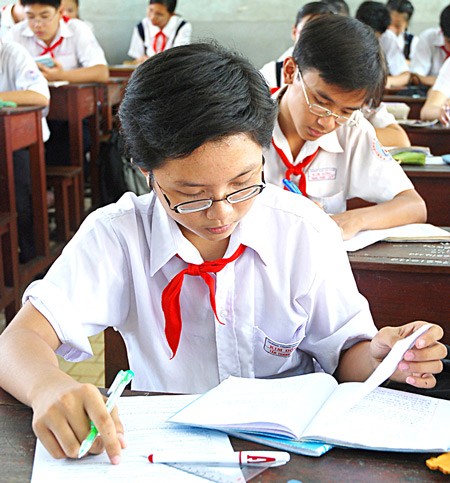 Class 9 students at Kim Dong Secondary School District 5, HCMC(Photo: SGGP)
Mr. Nhan was reporting to the Standing Committee of the National Assembly on a policy designed to renew the education sector's finance structure between 2008 and 2012.
The regulations on school fees were created 11 years ago and have not changed, while the consumer price index has increased by 162 percent between 2000 and 2008, Mr. Nhan said.
Current school fees are equivalent to just 62 percent of that in 2000.
Mr. Nhan used an example of university fees, where in 2000 fees were VND111,600 per month and are now VND180,000, yet to reflect the same relative costs, fees should be VND291,600.
Renewing the finance structure is necessary to enhance education and training quality, he said.
According to the proposal, districts in a province may have different school fees depending on parents' ability to pay. If school fees reach six percent of a household's income, the State will assist with any remaining costs.
School fees in vocational training schools, colleges, and universities will be shared between the State and learners. Students from poor families, and families under the preferential treatment policy, will be exempt from school fees. Students from low income families will be also be able to access Government sponsored loans.
If the proposal is passed by the National Assembly, the Government will issue new finance regulations for 2009-2012 by June, Mr. Nhan said.
School fees should increase 30 to 40 percent each year
The NA Standing Committee for Culture, Education, Youth and Children said that the six percent proposal is too much for the current situation of most people in the country, especially poor farmers.
The gap between the current school fee and the proposed school fee is too wide, as it is an increase of 3.5 to 4.5 times the current level while living standards are still low.
School fees should be increased step-by-step, around 30 to 40 percent each year, the standing committee said.
Vocational schools' fees are still high compared with high schools. It is not fair on students at vocational schools and does not encourage students to attend vocational schools after leaving secondary education, the standing committee said.
The proposals did not mention scholarships as an important and effective solution for developing talent either.
The standing committee said that school fees should also reflect the standard of the school. In order to prevent schools from incorrectly claiming high levels of education and training quality, relevant authorities must inspect standards.
The government should provide reports about the affects of the proposal on the State budget and people's living standards, the chairwoman of the NA's Judicial Committee, Le Thi Thu Ba, suggested.
The committee suggested that the Government should delay the proposal until 2010 due to the current economic crisis and the difficult situation many families find themselves in,
After listening to opinions from the NA's standing committee, Mr. Nhan said that increase of school fees could be delayed by a year, but university and college fee should be increased by 50 percent this year.