Teachers not only teach how to read, write and provide students with knowledge but also teach students life skills and correct behaviors.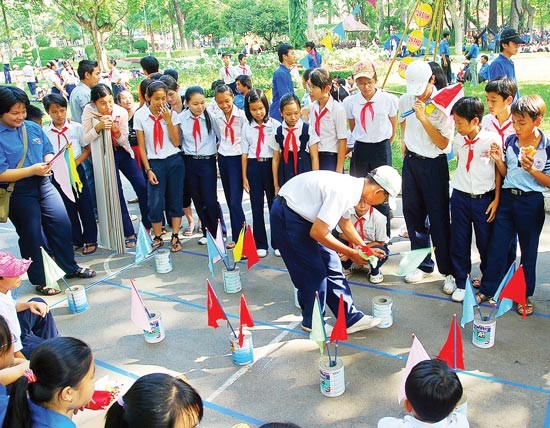 Students particpate into an extra activities(Photo: SGGP)
Parents of students in Nguyen Thai Binh Primary School in Ho Chi Minh City are very happy as their children are taught to queue while buying food at canteen of the school and bow their head to say thank you to sellers. Mrs. Phuong Thuy, a parent, said that students stayed all day in the school; accordingly the school should teach them etiquette.

Similarly, students of Le Quy Don Junior High School have been trained to queue while waiting for their food in the canteen. They have themselves decided their food and cleared away the tray of food.
They have been trained such trivial habits to have good manners which become preparation for life.
Principal of Le Quy Don Senior School Do Thi Bich Duyen said that the school has also organized outside class activities including presenting gifts to the underprivileged people in disadvantaged districts or playing with children in orphan centers.
All activities will help to cultivate sympathy with poor people in students, she added.

Unlike many people thinking about lessons for citizenship education as a 'dried' subject and hard to teach and learn, students of Bach Dang Junior High School are interested in these lessons.
Teacher Le Tuan Anh has provided lessons with social, legal and cultural knowledge attached with vivid reality and practice. These lessons such as love for parents, money saving and bad effects of playing games in internet become good examples for life.