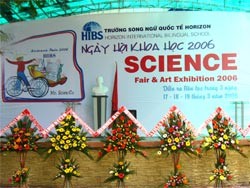 The first Annual Science Fair & Art Exhibition - a chance for learners to get practical knowledge. (Photo: VH)
The first Annual Science Fair & Art Exhibition, hosted by the Horizon International Bilingual School (HIBS), is opened in Ly Tu Trong Park.
The event is designed for students to introduce themselves and to demonstrate their understanding of academic theories and skills in practical experience, said a teacher of the HIBS.
The three-day event is attended by more than 100 teachers and students of the HIBS in 17 halls and stands.
Many activities relating to academic subjects are presented in colorful stalls.
Students at the stall themed "Mathematics" raise many amusing quiz questions to visitors so that bystanders can share new discoveries. Many paradoxes, magic numbers have to be found. Those who got it right can win presents directly in the stall.
Physics-lovers would be taken by surprise with hundreds of funny questions which might have confused them for a long time.
In addition, there will be other interesting cultural programs performed by students of this high school during the three days. Cultures of Viet Nam, Turkey, China, Japan will be presented in English by learners and teachers.
The beauty of Viet Nam's traditional clothes, the "Ao Dai", is on show besides the charming clothes of some other ethnic minorities.
In addition, the family atmosphere of a Vietnamese wedding ceremony and folk festivals in the country can be spread among the fair at the performance of young students.
Visitors have chance to learn more about traditional dance and coffee of Turkey, a bi-continental country.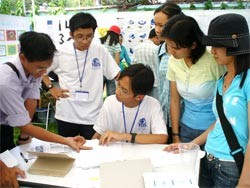 Students and visitors are discussing a question. (Photo: VH)
Last but not least, one group of Japanese students and teachers also participate in this fair with various exciting performances. Passers-by can enjoy and learn how to make Sushi, a famous Japanese dish. Origami, the Japanese name for the art of paper folding and Kimono, traditional Japanese dress, will also be introduced to Vietnamese students and visitors.

The first Annual Science Fair & Art Exhibition is scheduled from March 17 to 19, 2006.