Sai Gon Giai Phong Newspaper hosted a seminar yesterday to discuss the present day quality of education and status of infrastructure in private boarding schools in Ho Chi Minh City.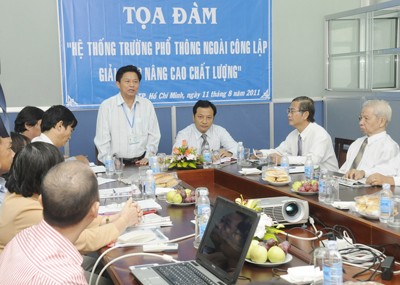 Editor-in-chief of SGGP Newspaper, Tran The Tuyen (standing) speaking at the seminar.
Experts as well as insiders put forth their views and suggestions on measures to improve the quality of education.
Ho Chi Minh City has 74 private schools with 33,000 students. This takes a substantial load off state owned schools, said deputy director Le Hoai Nam, from the HCM City Department of Education and Training.
More and more students are now choosing to study in boarding schools, not just outsiders from neighboring provinces but also Ho Chi Minh City residents as well, said Ms. Pham Thi Thuy Vinh, Principal of Ngo Thoi Nhiem Boarding High School.
Private boarding schools have to provide students with a comprehensive education plan in various fields including knowledge, morality, soft skills and social understanding.
In addition, a well planned infrastructure is vital to providing students with all the necessary facilities for a clean and safe environment for both studies and extracurricular activities.
Most schools are located in crowded residential areas, so it's hard for schools to expand and incorporate new facilities like science labs, school play grounds and gardens.
The key to improving the quality of education is to apply student-centered policies, offer guidance in attaining most out of their studies and help reach their full potential while doing away with old-fashioned learning methods.  In addition, paying adequate salaries to teachers would motivate staff and improve the education quality as well.