The education sector has released a document stating that both Hanoi and Ho Chi Minh City have not built any public pre-schools in 15 wards and communes and the shortage of state facilities and pressures of compulsory education for children in the five year bracket has led to overcrowding in private pre-schools.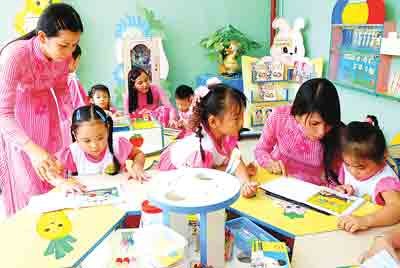 Teachers in Tuoi Ngoc Pre-school in district 8 reading stories to children (Photo: SGGP)
Although parents in the two big cities of Hanoi and Ho Chi Minh City sense the pressure on public education facilities, they are surprised by the disclosures in this latest report of the education sector on public pre-schools in both the cities.
People can count on their fingertips the number of pre-schools built for the new academic year despite education getting top priority.  According to a recent document, HCMC has 723 nursery schools, 397 public, 326 private institutes and 1,054 childcare centers.
Though more children in the three to four year age group want to come to school, compulsory education for kids only begins at the age of five. Consequently, some schools in district 1, 3 and Phu Nhuan have decided not to admit small toddlers.
District 12 in HCMC has seen a high increase in the number of toddlers seeking admission. The district built two more public and five private pre-schools but there is still a high demand by nearly 1,000 kids.
This year the district has 19,000 toddlers in the three to five year age bracket. 5,564 are in the five year age group but public institutes can only receive 5,189 kids. This has forced parents to send their children to private kindergartens or unlicensed childcare facilities.
Most worrisome is the fact that both Hanoi and HCMC spend much on education but the overcrowding in schools has not eased over the last few years. Hence, it is easy to understand the mushrooming of private and illegal childcare centers in these districts that cater to toddlers who have no other facility to go to.
Paradox is that children in private institutes with high tuition fees come from low income families (70 percent parents of children in private centers are poor laborers). Moreover, staffs in these childcare centers are not well-trained to educate children.