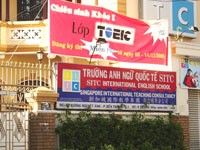 One of the SITC campuses in closure. (Photo:TC)
Tuitions will not be refunded to students of Singapore International Training Consultancy (SITC). Instead, the students will have chance to renew their study in other language training schools, announced Lai Huu Mien, Deputy Head of the Continuing Education Department under the Ministry of Education and Training.

Around 17,000 students of SITC's campuses in Ho Chi Minh City will keep learning English in 21 language centers.

Over 7,000 learners in the Ha Noi-based campuses could proceed with English courses in 8 language schools in the region.

And, it is not difficult to find language schools for the 6,000 remaining students in other regions.

All 29 language centers receiving SITC's students will be inspected on training programs and facilities to make sure that unlucky learners will not be cheated again.
Former learners of the SITC will be categorized in a move to get priority in the next courses. Trainees who have already paid tuitions but not participated yet any classes will have chance to study first. Detailed information of the students will be provided to the schools soon.
However, their study cannot commence as the authorities are still waiting for the seven shareholders of the Singapore-based SITC to arrive Viet Nam to solve the problem. There is a possibility that they may renew the SITC business and admit the students back.
The SITC's investors are expected to arrive in Viet Nam in March, 2006 to either file for bankruptcy or confirm the closure in some other way.