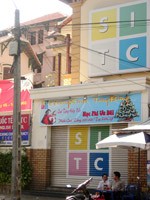 One of the SITC's campuses in closure (Photo:TC)
The SITC's Lawyer has returned to Singapore after a working trip to Viet Nam, leaving no hope for both students and the operators of this language center in this country.
He also affirmed that investors will not pour money to reopen SITC's campuses in Viet Nam.
Instead, an assistant fund will be established in a bid to help lecturers and learners of this center, said Phan Huu Thang, head of the Foreign Investment Office under Ministry of Planning and Investment (MPI) on March, 13.
These shareholders have promised to cooperate with Taiwanese Kenta educational center to assist students in Ha Noi and Ho Chi Minh City.
Through the lawyer, the MPI offered to help SITC investors to solve the problem.
However, they must clearly state their position in regard to the reestablishment of this language center in Viet Nam. Otherwise, its operating license will be revoked, which means that the SITC will halt its training activities and then go into liquidation.
Previously, a task force was made up primarily of ministerial-level officials in an effort to cope with the aftermath of the SITC's sudden closure. Furthermore, foreign wholly-owned language centers in Viet Nam will be under close scrutiny by this task group, whose job is due to be completed by May, 9, 2006, Mr. Thang added.
Initial investigations revealed 10,000 students and 40 teachers have been swindled by SITC's management.
Each trainee paid around US$150 as tuition fee but has yet to attend any classes since the abrupt closure. Many discount fee vouchers, which are around US$125 each, were also issued to lure more learners.
The cash was divided into shares, part of which was commission for marketing officers, supervisors, leaders and administrative officers. The remainder was to be used for running of classes. These people, along with students and teachers, are now facing a grim prospect of recovering any money if at all.