A Child Healthcare Project has trained 60 students from 14 junior high schools to make 3D models to propagandize against discrimination of HIV/AIDS infected people.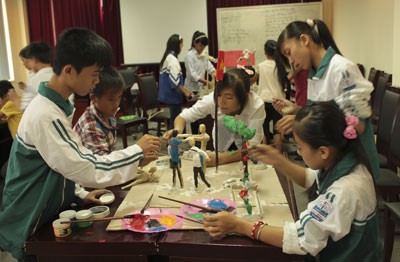 Students of Phu Minh Junior High School in Hoa Binh Province absorbed in make 3D models (Photo: SGGP)
The students are from junior high schools in Cao Hong and Ky Son Districts in the northern province of Hoa Binh; Bach Thong and Na Ri Districts in the northern province of Bac Kan; and Tra Linh District in the northern mountainous province of Cao Bang.
Lecturer Le Thi Hien from the University of Art in Ho Chi Minh City taught the students how to make cubes with available materials   such as pieces of telegraph wire, paper made from a special plant for drawing, and bits of used straw.
For the project, the students will be divided into groups; each group will think of a situation from daily life to make up a story for making the realistic 3D models.
Representatives of each group will deliver a speech to narrate their story and convey the message to the rest of the class.
Seventh grader Nguyen Khac Toan from Phu Minh Junior High School in Ky Son District applauded the teaching methodology which is easily understood by students of ages 12-15, and hoped the methodology could be applied to learning history and geography.
In the process, students also learnt art techniques such as use of color and space, team work, responsibility for the finished works, and the ability to speak in front of a crowd.
Le Thi Hien praised her students as they quickly grasped the techniques, much to her surprise.
At the exhibition, after each team representative delivered a speech and message hidden in a story, they were once again asked knowledge of HIV/AIDS prevention. The target of the project has been achieved as they all understood how to protect themselves.
This unique project in five districts in three provinces attracted more than 150 students and teachers. It is hoped that they will become key people in media campaigns in junior high schools to raise awareness of the disease in communities and of reproductive healthcare among teenagers in time to come.