HA NOI (VNS)— More than 900,000 high school students nationwide attended orientation sessions yesterday in preparation for the national graduation exams, which start today.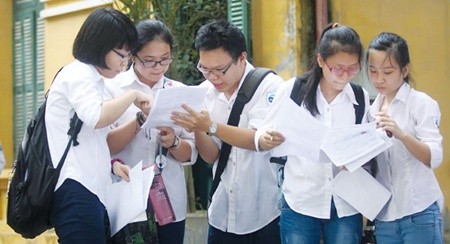 Students discuss chemistry at the Chu Van An High School in Ha Noi. More than 900,000 high school students nationwide will take the national graduation exams today. — VNA/VNS Photo Minh Quyet
The two-and-a-half-day exams, which mark the completion of the students' 12 years of education, focus on four subjects. Two are compulsory (maths and literature) and students can choose among physics, chemistry, history, geography and foreign languages for the other two.
The Ministry of Education and Training reported that all localities had finished their preparations for the exams.
In Ha Noi, all schools used for examinations were required to halt all activities and programmes for four days starting yesterday.
Kieu Trung Tien, principal at Phan Dinh Phung High School, said that the examination board had prepared its facilities and staff for 730 test-takers. In addition, households located around the school had pledged not to cause any problems during the examination.
Nguyen Van Tien, chairman of the examination board at Nguyen Trai High School,confirmed that all 567 test-takers at his school had been informed about exam regulations. The examination board had also worked with local authorities, especially in the public security sector, to ensure regular traffic flow during the exams.
Meanwhile, students in remote and mountainous areas have received financial support to take the exams.
Ho Thu Son, head of the High School Session under the Cuu Long (Mekong) Delta province of Hau Giang's Department of Education and Training, said that the province had asked traffic police to help prevent traffic jams for test-takers.
Schools near rivers and canals had worked with boat owners to ask for ticket discounts and give priority to test-takers, he said.
Of the more than 910,800 students registered for the exams, nearly 823,800 are from high schools while more than 87,000 come from the continuing education system, which is provided for those who are already above high school age, according to the education and training departments.
The students will take the first exam, literature, this morning.