Thousands of youth volunteers have been doing social work for the last three weeks under Ho Chi Minh City's Green Summer campaign, with nearly 200 students teaching children and workers in the city.
"Teachers" camping in District 7 have been teaching foreign languages to children and workers at the Tan Thuan Processing Zone.
At 7 pm daily the sounds of lessons being taught can be heard from a class hidden in a deep alley on Huynh Tan Phat Street.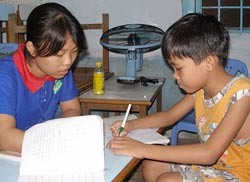 A Green Summer Campaign teacher and her student. Students are so naughty that sometimes young teachers set to burst into tears. (Photo: SGGP)
The students, all children, are so naughty that sometimes young women teachers seem set to burst into tears.
Le Dang Hanh Nguyen says: "All these children have difficult family situations. So, the longer we teach them, the more we love them."
In the class a teacher stands on the dais while another goes around explaining to the kids. "The important thing when teaching English to these children is to be gentle and patient. Since they are not as lucky as other children, we should show them more love," one of them says.
Nearby is a Korean language class for Tan Thuan workers that begins daily at 6:30 pm. It has three teachers.
Miss Bui Thi Tam of the Korean-owned Pung Kook Saigon Company has just finished working. But she nips back to her rented room, gulps down a pack of instant noodles, and rushes to the class. She says: "Although I'm tired after work, I quickly registered when plans for this class were announced. Hopefully, after a while I can communicate in Korean."
Tam's colleague, Mr. Nguyen Van Vinh, 43, has never missed a class. He says, "Despite being rather old, I decided to attend this class to be able to communicate at work."
Sometimes it rains heavily when the teachers have to go to the class, but they know the workers are waiting for them.
Across the city, in district 12, there are 11 teachers. They hold a Chinese class for workers and English classes for children in grades one to nine. Mr or Ms (??) Dao Le Na says: "We usually play games or sing in the classes. This makes the children comfortable."
Last year Hiep was a teaching assistant, but now he's a teacher. He says: "I want to use what I have leant at school to do good for our society. Being with the workers makes me feel grown-up."
The volunteers are happy to hear the workers and children call them "teachers".
Though they have been together for less than a month now, there are already lots of happy memories between the teachers and workers. The workers are devoted to their young teachers. Ms. Tran Tuyet An says: "I really admire these students' enthusiasm. I hope they teach longer."
And suddenly it is time to part. Mr. Tran Van Thai, who attended one of the classes from the beginning, says sadly: "Though I attended the class for just a short time, I liked it very much. Hearing they are about to leave, I feel so sad." Many workers want these classes to be permanent so that they can improve their foreign language skills.
Ms. Truong Thi Ngoc Yen, deputy chief of the Youth, Worker and Labor (pl find correct name) Department, said: "The campaign chiefs are discussing with processing zone managers how to find teachers for these classes."
For the record, the 2008 Green Summer Campaign held foreign language and IT courses for over 12,500 workers in. There were 175 foreign language classes and 47 IT classes.