The Ministry of Education and Training on November 13 organized a ceremony to honor teachers on the occasion of the National Teacher's Day ( on November 20). Speaking at the ceremony, State President Truong Tan Sang said that good teachers are unknown heroes as teaching career plays a pivotal role in the country's development.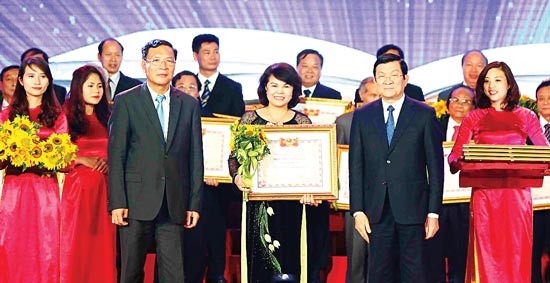 State President Truong Tan Sang gives certificates of merit ot teachers ( Photo: SGGP)
At the ceremony, many teachers received the title of People's Teacher and eminent teacher for their contribution to the teaching career.
State President Sang stressed that the Party and the government always esteem teachers and investment in teachers means investment in the future.

Education Minister Pham Vu Luan would like to send best wishes to all teacher nationwide on the National Teacher's Day; expressing hope that teachers will get good health to perform their lofty mission following Uncle Ho's teaching "Despite difficulties, teachers should continue good teaching" and to contribute to the country's growth.

Luan said that from 1988 to 2012, state presidents bestowed the title of people's teacher to 528 teachers and 6,735 eminent teacher title. In 2014, among 39 teachers were given the people's teacher title and 680 were granted the eminent teacher title.
Of 680 eminent teachers, 288 are female and 19 are ethnic minority teachers. The youngest teachers who was bestowed the eminent teacher title is Mai Thi Tham, 34, at Primary An Loc B in Binh Long Town in the southern province of Binh Phuoc.
Mr. Sang said that the education sector is carrying out a comprehensive reform including training and improving teachers' living condition so that teachers are reassured to perform in class.

State president Truong Tan Sang, Vietnam Fatherland Front (VFF) Central Committee President Nguyen Thien Nhan. Deputy Prime Minister Vu Duc Dam and leaders of ministries and students, teachers attended the ceremony.