It happens annually. Some districts suffer from a severe shortage of teachers, failing to recruit sufficiently, while other schools maintain an abundance of faculty.
The Ho Chi Minh City Department of Education and Training launched a recruitment program between May 15 and June 30 with the expectation of hiring over 3,000 more teachers, including 853 for primary schools and 867 preschool staff members for the upcoming year.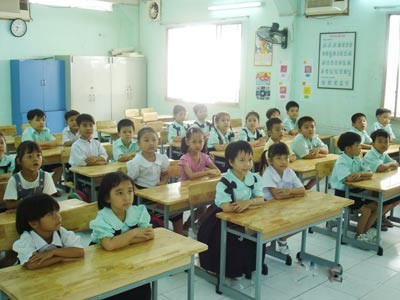 A class  in Nam Ky Khoi Nghia primary school in HCMC. The city has seen dearth of primary teachers ( Photo: Bao Uyen)
The department had received more than 2,500 online applications as of June 23 to fill the more than 2,200 teaching positions available. (2008 is the first year that the department has implemented an online registration process.)
However, teachers-to-be registered for senior high schools outweigh the demand in some districts and have set records for recruitment. For instance, the department only needs 516 new senior high school teachers, but the number of applicants is estimated to have tripled that number by June 23 and is expected to quadruple it by the last day of registration, June 30.
In addition, the department has announced it is recruiting 42 literature teachers but the application forms have been 200. Accordingly, only Ph.D, master or good students would be chosen for the posts.
On the flipside, particular schools and districts face dearth of qualified recruits. For example, primary and preschools have only managed to meet half their demand; therefore, it has been forecasted that the second and third recruit program would remain open.
Moreover, suburban districts Binh Chanh, Can Gio and Hoc Mon have once again seen few teaching applicants. Binh Chanh needs 110 primary teachers for the academic year 2010-2011, but has received only 30 application forms.
Dang Thai Binh, headmaster of the Thanh An primary school in Can Gio, said schools in suburban districts are looking for teachers but cannot fill open positions until the new academic year begins, in one or two months.  This is the case every year.
Meanwhile, Van Cong Sang, Human Resources Department head at the HCMC Department of Education and Training, fretted about applicants misunderstanding circumstances by over-favoring jobs in the city's districts.
Truong Thi Thanh Binh, applying for a position at a junior school, said, "Graduates favor of nearby educational facilities or we accept jobs in distant districts unwillingly, but the problem is that under-the-table teaching salaries do not cover the cost of living."
Applicants are advised to be careful in selecting their school of choice. They will have more opportunities to find jobs in the suburban districts, if there are only willing to commute farther to teach.
This is the first year that district Department of Education and Training have been given the right to recruit teachers for junior, primary and preschools by themselves instead of admitting teachers already employed by the city's departments.