The year 2012 witnessed many breakthroughs in education in Vietnam. For the first time, the Central Committee of the Communist Party of Vietnam hosted a conference on current issues in education as well as ways to encourage talented people to participate in the national educational revolution campaign. Following are the ten most remarkable events in 2012 as selected by Saigon Giai Phong Newspaper.
 
1. Proposal on Comprehensive Revolution in Education and Training.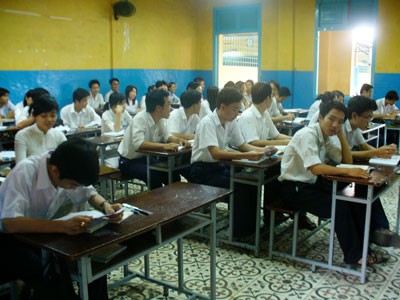 Students of Trang Khai Nguyen High School in District 5 in Ho Chi Minh City learn mathematics (Photo: U. Phuongi)
The 6th conference on Proposal on Comprehensive Revolution in Education and Training was held in Hanoi from October 1 to 15 by the Central Committee of the Communist Party of Vietnam to discuss details in order to meet necessary requirements for the modernization and industrialization process under market economy conditions and socialist orientation.
All attendees agreed that immediate action was necessary to continue following every guideline in Resolution No.2 of the 8th Plenum of the Central Party Committee as well as decisions issued by the Politburo to successfully conduct the campaign on educational and training developments until 2020.
Since matters of the above proposal are quite complicated, long-term investigation is required before issuing a final resolution.
 
2. Law on Higher Education was passed in the 3rd Session of the 13th Plenum of the National Assembly of Vietnam.
The law, which will come into effect on January 1, 2013, gives autonomy to higher educational institutions at the maximum level possible. All educational institutions are also categorized and ranked in accordance with such criteria as position and role in the educational system; scale, subjects and level of training; training and scientific activity; quality of training and scientific research; result of inspection on training quality.
 
3. Highest Position in International Olympic Competitions in 2012.
There were seven groups of Vietnamese contestants taking part in various regional as well as international Olympic Competitions and the Intel International Science and Engineering Fair (Intel ISEF). They achieved 5 gold medals, 15 silver medals, and 11 bronze medals in total.
This is also the first time Vietnamese contestants, including three students from Hanoi-Amsterdam High School, achieved first prize in Intel ISEF in the field of electricity and mechanics. The Olympic mathematics group came back to the top-ten list after four years.
 
4. Cheating Case in Doi Ngo High School in the Northern Province of Bac Giang.
Video clips of students cheating under the supervision of teachers in the 2012 high school graduation examination in Doi Ngo Private High School in Luc Nam District of Bac Giang Province shocked the whole nation when posted online.
The Ministry of Education and Training cooperated with the police to investigate the case. As a result, 42 officers and teachers were disciplined by the Bac Giang Department of Education and Training.
Following this incident, the Ministry of Education and Training modified the university enrollment regulation to encourage people to monitor illegal activities.
Accordingly, examinees are now allowed to bring communication devices such as camcorders, recorders, etc, into exam rooms to record illegal activities of others.
 
5. Change in University Enrollment Regulations.
Higher educational institutions are now allowed to extend their enrollment period until November 30. Contestants are permitted to hand in photocopies of exam results as well as withdraw enrollment documents.
These changes, which raise many disputes, are considered by the Ministry of Education and Training (MOET) as a way to increase opportunities for low-ranking academies to attract more students. The reality, however, is just the opposite.
The second change created many imaginary successful candidates, bringing about instability in the enrollment process. Moreover, many public universities used the minimum passing grade issued by MOET as their own passing criteria, which made the first change meaningless.
Many low-ranking and private universities only got 20-30 percent of their enrollment target this year and had to cancel a lot of training programs.
 
6. Correction of Model of Cooperation in Training.
Many educational institutions such as the Hanoi Open University, FTMS Global, Hoa Sen University, the AFC Institute of Financial Management, Melior Business School and SIBME, were fined this year for violating the law in training. However, due to lax management, the regrettable incident of the principal of Melior School running away without clearing school fees happened.
 
7. Professor title conferred on exceptional people.
Deputy Prime Minister Nguyen Thien Nhan has approved a request by the National Council to award Professor title to Associate Professor and Doctor Phung Ho Hai of the Maths Institute under the Vietnam Academy of Science and Technology; and Doctor Pham Huu Anh Ngoc, lecturer of the International University under the Ho Chi Minh City National University, as an associate professor.
Along with many overseas Vietnamese such as Prof. Ngo Bao Chau or Prof. Vu Ha Van, Dr. Phung Ho Hai is the first case of Vietnamese people living in Vietnam to be considered for this academic title. Born in 1970, he became the youngest professor in Vietnam, with many scientific projects published in renowned international journals.
He was invited to work in many famous mathematics-physics research institutes such as the International Center for Theoretical Physics in Trieste (Italy), the Max Planck Institute for Mathematics in Bonn (Germany), the Mathematical Sciences Research Institute in Berkeley (USA), etc.
 
8. Recruitment of Native Speakers from the Philippines.
The Ho Chi Minh City Department of Education and Training has launched a campaign to improve English-speaking skills for high school students in the period 2011-2020. Accordingly, 100 English speaking teachers from the Philippines with salary of US$2,000 per month will be recruited. This has received many for and against opinions.
As planned, in the beginning of 2013, the first 29 teachers will start teaching in various high schools in Ho Chi Minh City to help create an English speaking environment for students. Other provinces such as the southern provinces of Dong Nai, Binh Duong, and Ba Ria-Vung Tau have plans to follow the same plan.
 
9. Second Place at the 9th ASEAN Skills Competition.
The Vietnamese group, consisting of 44 contestants from many vocational schools in Vietnam, took part in the 9th ASEAN Skills Competition held in Jakarta in Indonesia in November 2012. Participating in 22 skill tests, they came second with five gold medals (in cooking, wall masonry, floor masonry, brick building and design), 4 silver medals, and 5 bronze medals, as well as 11 certificates of excellence.
 
10. Textbook Selection to be available from 2015.
One of the most important educational issues at present is how to improve textbooks to make them more effective. As agreed by many educators, textbooks should be designed to be suitable for integrated as well as categorized teaching.
By 2015, there will be many textbook sets for teachers and parents to choose from for their children for local requirements and for each region in the country.