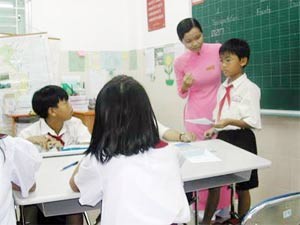 Vietnamese pupils study at an international primary school in Ho Chi Minh city.(Photo:TK)
The Asia Pacific Education & HR Co. Ltd on August 6 brought into operation three schools in Ho Chi Minh City, covering an international education system from kindergarten to high school levels.
The school included the Asia Pacific Kindergarten (26/6 Nguyen Binh Khiem St., Dist.1), the Asia Pacific Primary School (34-36 Dinh Tien Hoang St., Dist.1) and the Asia Pacific College (82 Dinh Bo Linh St., Binh Thanh Dist.)
Tuition fees are US$220 per month (primary and kindergarten levels), US$330- 350 (junior high) and US$400 (senior high).
Syllabuses at all levels are jointly set up by combing the general educational program of Viet Nam, promulgated by the Vietnamese Ministry of Education and Training, and that of Australia with international standard.
Students graduating from Asia Pacific College can transfer directly to many prestigious universities of Australia and many other countries.
The Asia Pacific Education & HR Co. Ltd has invested roughly VND200 billion in the first phase and is expected to raise its investment capital to VND500 billion up to 2010.