MOET, UNICEF and 'Save the Children-Vietnam' signed a Memorandum of Understanding (MoU) on June 1 that helps MOET and collaborates to coordinate activities during natural disasters and prepare the education sector for possible crisis during a natural calamity.
The focus of the tripartite MoU is to ensure that children continue to get education, meet friends and teachers during a natural calamity when schools may be underwater, under mud piles or when all study material may be damaged.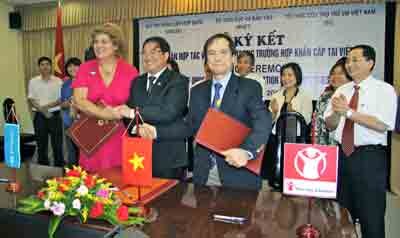 Representatives of three sides at the signing ceremony
Vietnam is highly prone to natural disasters, including floods, landslides and typhoons. Vietnam faces 6-8 major storms and hurricanes every year. Disasters have a strong impact on the education system with damage to school infrastructure and classroom materials, as well as disruption of a child's learning class.
Moreover, natural disasters can limit hard-won educational achievements and set back Vietnam's progress towards achieving Education for All and the Millennium Development Goals.
The Ministry of Education and Training is responsible for education activities related to disaster preparedness, response and recovery. These are integrated in the Government's ten year Strategy, five-year Education Sector Plans and MOET's Annual Plan at National and Provincial levels.
On its part, UNICEF will help the ministry raise funds and improve managerial staff in preparing for natural disasters.
'Save the Children-Vietnam', in coordination with UNICEF, International agencies and networks will share, learn and disseminate best practices in emergency education and provide appropriate educational supplies in an emergency response. It will also complement MOET's distribution efforts when required, advocate and support MOET in planning and allocating resources related to disaster risk reduction (DRR).
Tran Quang Quy, Vice Minister of the Ministry of Education and Training said at the signing ceremony that during last December floods, for example, more than 12 thousand schools closed and children couldn't go to school for a whole month. The Education in Emergencies MOU prepares local authorities, schools, teachers and children for natural disasters by equipping all parties with skills and knowledge to minimize possible disruption and unnecessary breaks in educational activities.
The ceremony was the first event to put into action the global mandate of the Inter-Agency Standing Committee that UNICEF and Save the Children are responsible for in Vietnam.