Australian Dr. David G. Marr and Japanese Dr. Yumio Sakurai have been named winners of the 2008 Vietnam Studies Prize awarded to foreign experts who have made outstanding academic contributions to Vietnamese studies. The Foundation's Prize Jury on February 25.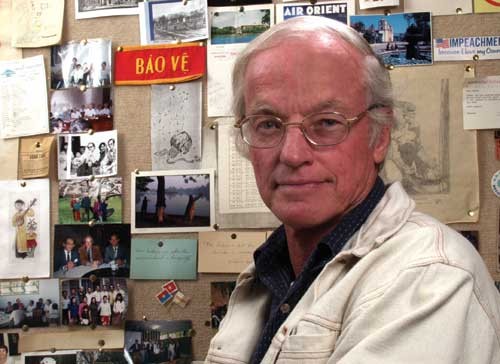 Australian Dr. David G. Marr, one of researchers to win 2008 Vietnam Studies Prize of the Phan Chau Trinh Culture Foundation
The Phan Chau Trinh Culture Foundation, which gives away the annual award, praised the two not only for their important academic contributions but also their love for Vietnam and its people.
David G. Marr, currently Senior Fellow at the Research School of Pacific and Asian Studies, Australian National University and former editor of Vietnam Today and co-director of Indochina Resource Centre (Washington and Berkeley), has written a number of books on Vietnamese history, including "Vietnamese Anticolonialism 1885-1925" and "Vietnam 1945: The Quest for Power."
Yumio Sakurai is president of the Vietnam Research Association in Japan. In 1987 he defended a doctoral thesis in history titled "Formation Process of a Vietnamese Village" at the National Tokyo University.
In 1992 he did another doctoral thesis titled "History of Irrigation Development in the Red River Delta" at the university's agriculture faculty.
In these works, Mr. Sakurai developed a new approach to Vietnamese studies.
The prizes, funded by the PACE Institute of Directors, will be given away at L'Espace (Centre Culturel Français de Hanoi) in the capital on March 27.
The jury that selected the two winners comprised:
1. Nguyen Ngoc, writer, chairman
2. Prof. Dr. Nguyen Trong Chuan
3. Dr. Chu Hao
4. Associate Prof. Truong Dang Dung
5. Dr. Tran Đinh Thien
6. Prof. Dr. Nguyen Van Trong
7. Prof. Le Ngoc Tra
8. Professor Phan Huy Le
9. Bui Van Nam Son, philosopher, translator
10. Dr. Ngo Tu Lap, general – secretary
Related articles:
Phan Chu Trinh foundation to announce annual prizes
Cultural Foundation Announces Winners of Education Prize