Two students will travel to the US this August to vie for the "Microsoft Office World Champion 2010."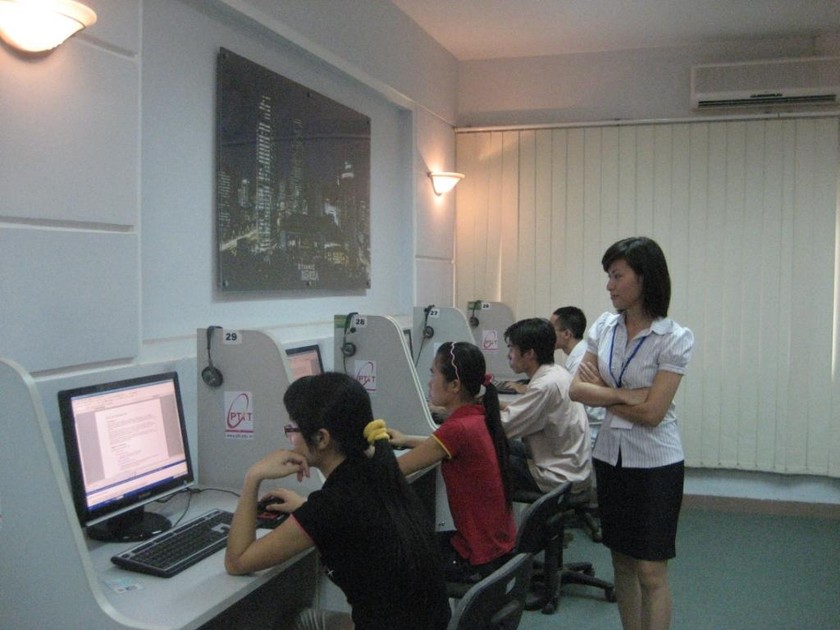 Candidates of the competition do tests in Vietnam (Filed)
Le Nguyen Anh Duong and Nguyen Tran Duy Phuong out-performed 350 contestants from 40 universities and colleges in Vietnam to win the Microsoft Office World Champion 2010 in Vietnam.
The competition was launched by the Department of Testing and Accreditation, part of the Ministry of Education and Training, and International Investment Group (IIG) Vietnam, to elevate the computer savvy of Vietnamese students, who still lag behinds their counterparts in other countries. It also aims to promote Microsoft office software.
Nguyen Tran Duy Phuong from Ho Chi Minh City University for Foreign Language and Informatics captured the first prize as he achieved the maximum 1000 points for using Word 2003. While Le Nguyen Anh Duong from HCMC Banking University won the first prize with a score of 964 points for Excel 2003.
 
For Word 2003, Nguyen Quang Thien from the Aviation Institute and Nguyen Thanh Tuan Anh from the Maritime University both had 971 points but Thien was presented the second prize for fulfilling the exam in a shorter time while Tuan Anh took third prize.
For Excel 2003, Nguyen Hoang Duy from HCM City University of Technology and Huynh Phuoc Tho from HCM City Foreign Trade University followed after Le Nguyen Anh Duong.
 
Most of the 20 top contestants came from HCMC universities. Only two northern universities – Hanoi Trade University and Maritime University – had students who placed in the top 20.
 
The first, second and third prizewinners received Microsoft MOS certificates and certificates of merit from the Ministry of Education and Training. First-place winners will go to the US next month for final test where they will test their skills against those of rivals from 60 countries.
 
Though this was the first time the competition took place in Vietnam, it attracted thousands of students from colleges and universities throughout the country.
IIG Vietnam will cover the expense of sending the winners to the US. The winner of the final contest will receive US$6,500 and other prizes.