The British Council has announced that British Chevening scholarships 2007-08, one of the world's leading scholarships programs sponsored by the UK Foreign and Commonwealth Office (FCO), will now be available to Vietnamese students.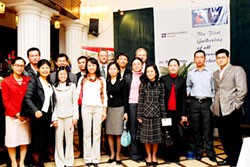 The First Grand Gathering of All Chevening Scholars in Viet Nam in March 2006 (Photo:Q.Tuan)
The scholarships offer fully and partially-funded postgraduate courses at UK institutions for three to twelve months.
Applicants must be Vietnamese nationals age 25-35 with a strong academic record and excellent English language skills (IELTS 6.5/TOEFL 600 or above).
The scholarships are aimed at high achievers with strong leadership potential.
This year's scholarships offer a wide range of the most popular subjects such as Economics, Banking and Finance, International Relations, Journalism, Development Studies, Environmental Studies, Engineering, Public Administration, Human Rights, Political Science and Criminal Justice Studies.
The program will begin accepting applications in September 2007.
The British Council will organize and convene a briefing and consultation to introduce the British Chevening scholarship program procedures and methods as well as answer questions on Friday, August 11 2006 from 1700 to 1830 at the British Council – 25 Le Duan, District 1, Ho Chi Minh City.
Links:
The British Council website

The British Council's UK Education website