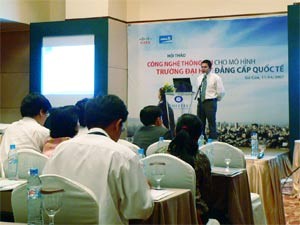 Many educators and representatives of universities join the Wednesday conference (Photo:TK).
Educators and representatives from many universities in southern Viet Nam joined a conference yesterday in Ho Chi Minh City to discuss the application of Information Technology.
The conference, jointly held by leading computer and communications corporation CMC and network provider Cisco Systems Vietnam, aimed to introduce participants to developing trends in the application of advanced technologies to educational systems worldwide.
Participants also discussed the development of e-learning, connected learning networks and the development of "Intelligent Universities", a model whereby the ability to exchange information via internet and intranet between connected schools is optimized.
According to Mr. James Chia, General Director of Cisco Systems Vietnam, network systems have recently become a very important factor in all means of communication and information technologies.
"I believe that Viet Nam can make many breakthroughs in education in the very near future once the country adopts a network system to help modernize their education system," he said.
A similar conference took place this morning in Ha Noi, attracting attention from universities in northern areas.