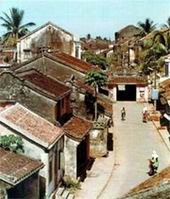 A street in Quang Nam
US-based Asia Pacific Trading Corporation is planning to build a 100-hectare residential vocational school in Quang Nam in partnership with the people's committee of the central province.
Initially the school will train some 12,000 students from across the nation.
The American partner says it will invest US$100 million in stage one of the construction this year and next, which includes building dormitories for the students and living quarters for the teachers.