US President George Bush sent his compliments to outstanding Vietnam-origined graduates of secondary schools in Houston, Texas on August 8 for the ninth annual Vietnamese-American Youth Excellence Recognition program.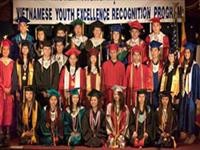 Vietnamese-American outstanding students at the ceremory

The event, held by the Vietnamese Culture and Science Society on August 6, was to recognize the academic achievements of Vietnamese-American high school graduates in the city of Houston, Texas.

In a letter to the Vietnamese students, US President Bush extended his congratulations to 31 top and second top scorers who graduated from nearly 60 high schools in and around Houston in 2006.

This is a record number in the past 10 years and surprised even the natives as the Vietnamese community makes up only two percent of the combined population of Houston and nearby regions.

2006 is also a record year, at least since 1996, for the number of scholarships sponsored by the Vienamese community in Houston granted to the students reached seven.