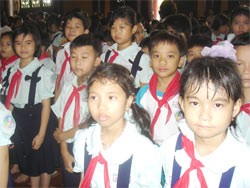 The quality of primary education will be enhanced (Photo: VH)
This is the first time Viet Nam receives international assistance for its educational development.
Part of the sum will be sourced from official development assistance (ODA) of US$130 million over 10 years (from 2003 to 2015), including US$50 million in soft loans from the World Bank and US$80 million in non-refundable aid from the European Union (EU) and the governments of Canada, Norway, Belgium, New Zealand and the United Kingdom.
Viet Nam will continue to put aside VND1.7 trillion  (roughly US$107 million) per year to implement the National Programme on Education between now and 2015, said Truong Thanh Hai, of the Planning-Finance Department under the Ministry of Education and Training (MoET).
Of the ODA capital, US$125 million will be invested in five projects on improving the quality of primary education in the 2006-2008 period. And, the remainder is reserved for raising the management capacity of school administrators.
The State budget estimated for projects of the National Programme on Education in the 2001-2005 period was VND7.55 trillion (US$500 million). However, only VND3.76 trillion had been disbursed by the end of 2004, accounting for 49.8 percent.
The meeting on government budget for education in 32 provinces in the south was held on March, 6 by MoET.