Vietnamese Vice President Nguyen Thi Doan December 17 arrived at Mat Troi Nho ( Small Sun) Kindergarten in Ho Chi Minh City's District Binh Tan where takes care of over 500 children of workers in Pou Chen Corporation.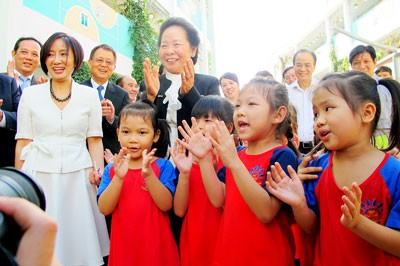 Vice President Nguyen Thi Doan visits Mat Troi Nho Kindergarten in BInh Tan District(Photo: SGGP)
At the meeting with Vice President, Tran Thi Lan Huong, chief of the kindergarten said Pou Chen Corporation has spent US$2.5 million building the kindergarten to help workers rest assured that their children are well looked after while they are at work.

Appraising the efforts of Pou Chen Corporation in helping workers, Vice President Doan recommended the company leaders and the school creating good environment in which laborers can devote to the work.

On the occasion, Pou Chen Corporation okayed VND200 million (US$ 9,400) and VND500 million (US$ 23,500) for the Vietnam Children Sponsor Fund and the Study Encouragement Fund.