The Asian Development Bank (ADB) said Tuesday it was lending US$50 million to help the most disadvantaged groups of Viet Nam, especially ethnic minorities and girls, gain better access to primary education.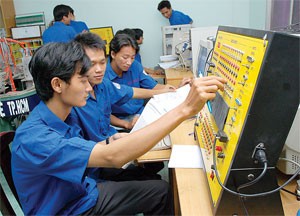 Students of HCMC Technical Teacher Training College during practice
The loan will improve participation of the groups in this educational level in the 103 most disadvantaged districts from the Northern Mountain, Central Highlands, and Mekong Delta regions. The money will be used for construction of classrooms and relevant facilities, teacher training, pilot testing of school feeding and awareness raising, provision of scholarship for smallest population ethnic groups, and capacity development of educational planning for targeted assistance for disadvantaged groups.
Viet Nam will contribute $14 million toward the project, wrote an ADB announcement. The Ministry of Education and Training is the executing agency for the project, due for completion in June 2014.
Eiko K. Izawa, education specialist of ADB's Southeast Asia Department, said in the announcement, "Poverty among minority groups is closely associated with low or limited access to education and training opportunities."
"The main reasons include lack of school and boarding facilities, ethnic minority language and cultural barriers, the poor quality of teaching, lack of curriculum relevance to local needs, low rate of return of investment in education, and high opportunity costs," she said.