Vietnam considers development of education a national policy and is trying to put in place an advanced education system by 2020, Prime Minister Nguyen Tan Dung told the Asia-Europe Ministerial Meeting on Education (ASEMME 2) in Hanoi on May 14.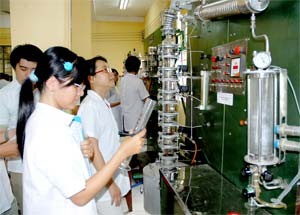 Students at a chemistry laboratory at the Ho Chi Minh City University of Technology (Photo: SGGP)
Addressing the two-day meeting that was attended by over 150 representatives from 37 ASEM member states and four international organizations, he said Vietnam plans to comprehensively renovate its education system solutions, including by strengthening foreign cooperation.
He expressed hope that cooperation in this field between Asia and Europe is stepped up to ease the impacts of the global recession on education.
"Vietnam is interested in more foreign investment in education and hopes to welcome more qualified teachers and scientists to do training and research.
"At the same time, Vietnam will also send its students to countries with advanced education for higher education."
Deputy Prime Minister and Minister of Education and Training Nguyen Thien Nhan said for the past few years, Vietnam has spent 20 percent of its budget on education and investment in the sector accounted for 7.2 percent of GDP.
As a result, the national education system has improved, with higher education and vocational training being expanded, he said.
"In 2000 Vietnam eradicated illiteracy and achieved universalization of primary education. Now, 51 out of the 63 provinces and cities have also completed universalization of junior high school education.
"Of the 3.2 million students in the country, about 1.2 million poor students have received education loans from the Government.
"The country aims to train 20,000 PhD's to staff the nation's universities by 2020," he said.
Taking to Sai Gon Giai Phong on the sidelines of the meeting, Tran Ba Viet Dung, head of the Ministry of Education and Training's Department for International Cooperation, said the meeting provides Vietnam an opportunity to attract experts and investment in education.
"Prospects for cooperation are great. Vietnam has signed agreements to [mutually] recognize academic qualifications with 11 countries, including China, Laos, and Ukraine. By year-end it will do the same with Spain."
ASEMME 2 was held to discuss the quality and recognition of educational qualifications within ASEM and how to sustainably develop human resources for ASEM.