An opening ceremony of the 46th International Chemistry Olympiad (IChO 2014) was held at My Dinh National Conference Center in Ha Noi Capital on July 21.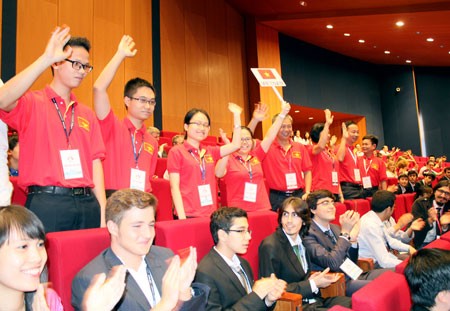 Vietnam's delegation wear red uniforms (Photo:SGGP)
This year's contest attracted participation of 77 international delegations from 77 countries and territories accompanied with two observer countries.
Vietnam's delegation with eight members including four students and four scientific observers was led by Nguyen Quoc Chinh, a lecturer of the National University in Ho Chi Minh City.
Participating in this year's contest, the contestants have to pass both theoretical and practical exams. The practice test will be held at Pedagogy University in Ha Noi on July 23, and the theory test will be held at My Dinh National Conference Center in Ha Noi on July 25.
Speaking at the opening ceremony, Minister of Education and Training Pham Vu Luan said that Vietnam would create the best conditions for students in the competition.
The international Chemistry Olympiad is an annual academic competition for high school students under the age of 20 worldwide, which contributed to develop science industry all over the world and encourage and promote learning Chemistry for students, added the Minister.
In addition, the competition helps to enhance friendly relations among young people from different countries and encourages cooperation and international understanding.
Head of the contest's Professional Board Nguyen Van Noi said that the scientific committee prepared a bank of exam questions, including 30 sets of practical questions and 100 sets of theoretical questions.
The contest was first launched since 1968, and Vietnam is the seventh countries in the Asian region hosted the event.